Commercial
Make A Payment
---
San Luis Garbage, South County Sanitary, Mission Country Disposal and Morro Bay Garbage professionals are standing by to assist your business or organization with timely and cost efficient commercial services for trash, organics and recycling. For questions or more information, you may call 805-543-0875 or request service online.
Serving your area for many years, we understand your business may encounter high demand seasons, and we are here to alter pickup frequencies or change out container sizes to meet your changing needs.
---
Containers
We serve San Luis Obispo County businesses and organizations with color coded containers for each type of material: Gray for Trash, Blue for Recycling, and Green for organics.

| Container | Color | Material Destination |
| --- | --- | --- |
| Trash | Gray | Landfill |
| Recycling | Blue | Materials Recovery Facility (MRF) |
| Organics | Green | Dry Anaerobic Digestion Plant |
We offer front load containers for various types of materials from 2 cubic yards to 6 cubic yards. Please refer to the chart below for capacity and measurements. The 2 and 3 yard containers also come with or without wheels.
| Front Load | Width | Length | Height |
| --- | --- | --- | --- |
| 2 Yard | 3' | 6' | 3' |
| 3 Yard | 4' | 6' | 3'6" |
| 4 Yard | 4' | 6' | 5' |
| 6 Yard | 5' | 6' | 5'6" |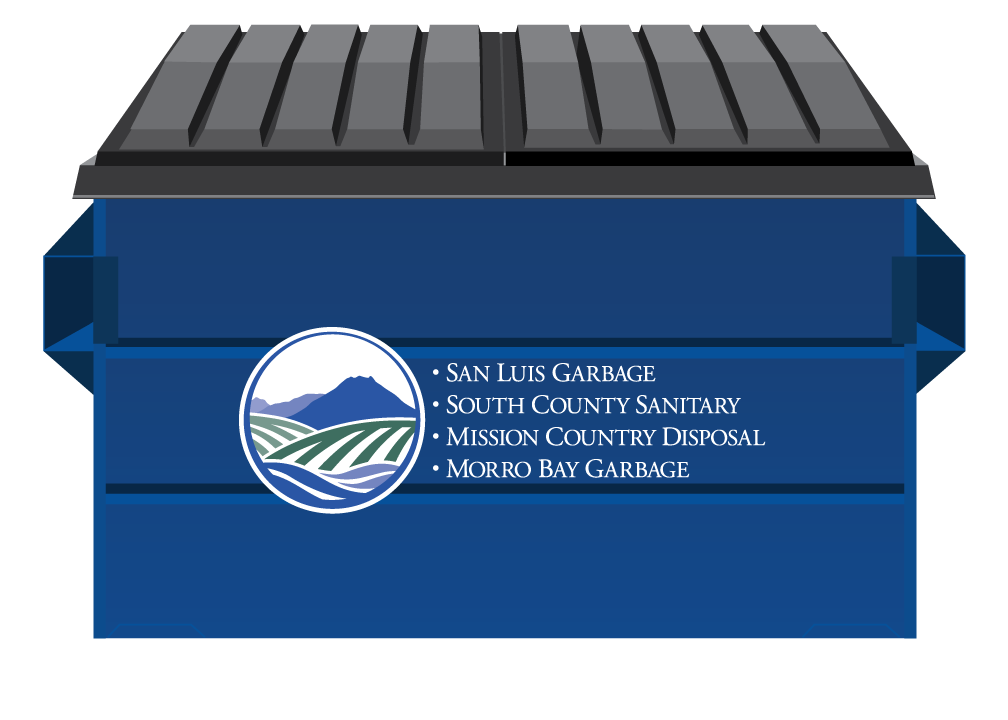 ---
Materials
For safety, legal and environmental reasons, it is important for your business or organization to only place approved materials in each type of container. Some of the materials not allowed in any of our containers include: hazardous waste, electronic waste, medical waste and explosives.
Organics
Starting January 1, 2019, California law requires any business, public entity or apartment building with five units or more that generates more than 4 cubic yards of solid waste per week must recycle organic waste. Please place all approved organic materials in the green organic waste containers without bagging it. This material will be converted into electricity and soil amendments.
---
Recycling
Businesses that generate more than 4 cubic yards of solid waste per week must recycle, and all multifamily complexes or apartment buildings with five units or more must have a recycling program. The local Materials Recovery Facility (MRF) determines what items they accept. Please click here to view and print off the Blue Recycling Container items.
Accepted
Paper Products
Cardboard
Junk mail
Magazines
Newspaper
Office paper
Paperback books
Shredded paper (in clear plastic bags)
Glass Products
Aluminum & Steel
Aluminum and steel food and beverage cans
Aluminum foil
Aluminum trays
Plastic Products
Plastic bottles
Plastic jars and cups
Plastic crates and buckets (small)
Plastic flower pots
Not Accepted
Paper Products
Cereal boxes
Milk/juice cartons
Paper cups
Hard cover books
Ice cream containers
Tissue paper
Paper towels
Glass Products
Ceramic coffee mugs
Drinking glasses
Fluorescent tubes
Light bulbs
Window glass
Metal Products
Aerosol cans
Aluminum chairs
Appliances
Car parts
Chain
Electronic devices
Hangers
Needles
Propane tanks
Wire
Plastic Products
Clothing
Film wrap
Garden hoses
Hangers
Plastic bags
Plastic ties
PVC pipe
Styrofoam (polystyrene) products
---
Trash
Businesses and organizations are responsible for the items they place in our containers. General waste and mixed garbage are acceptable in the trash containers. If you or your staff or residents have any questions about putting an item in any container, please call 805-543-0875 or send us an email.
Please note the items below are not allowed in any of our containers:
Ashes, hot or cold
Hazardous waste
Electronic waste
Explosives
Friable asbestos
Liquid waste
Medical waste
Radioactive materials